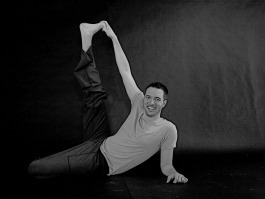 Sunday, Sept 14th


Arm Balances & Inversions
Alex Amorosi
Ever wonder about the person next to you in class, balancing on their hands? Join Boston based guest teacher Alex Amorosi for a fun and challenging class designed to take your practice to the next level. This class will focus on arm balancing poses as well as basic inversions, such as handstand and forearm stand at the wall. We'll explore techniques to build shoulder strength and core strength and work on integrating this strength through the whole body to give you a feeling of power and lightness. This class is open to ALL levels, although 6 months of a regular yoga practice is recommended.

$20 in advance/$25 day of
&

Teacher Workshop:



The Art of Teaching Arm Balancing and Inversions


Join Alex Amorosi for a workshop on deconstructing and teaching arm balances and inversions. This workshop will cover the primary muscles that need strengthening and stretching for each pose, tricks to help newer practitioners, assisting inversions in the middle of the room, and how to spot and address safety concerns. We will cover as many arm balances as time allows, as well as the three main inversions: handstand, forearm stand, and headstand. This workshop is a must for teachers and teacher trainees!


2-4pm
$40 in advance/$45 day of





Cost for Both Sessions: $55 in Advance


Sign Up HERE


Coming Spring 2015!

200 Hour Yoga Alliance Certified Teacher Training with Heather

"What we go through to become a yoga teacher has the potential to lead to some of the best friendships, most memorable experiences, life changing perspectives & maybe a new career. Complete strangers connect through yoga & learning to teach - each other & in the world after. There are 'aha' moments & breakthroughs, major life transitions & realizations. Teacher training brings about a new ways of thinking, how I see myself & how I see all that I share my life with. Teacher training asks everything of you. It is not for the faint of heart, although I have seen incredible transformations in this amazing group of people through this year.
If you even have the slightest interest in it, pursue it. How else can you fully comprehend the magnitude of how much your life will change because of it?"
- Nadja Teacher Training 2014

This training will teach you how to teach yoga (sounds silly, but some programs teach you more about yoga & less about how to teach it).


You'll learn to teach a power vinyasa (flow) class, but you'll also learn how to translate this flow into other styles of classes.

You'll learn the poses - about them & how to effectively cue them. You'll learn alignment, modifications & adjustments.

We'll talk about the business of yoga & what it means to have your Yoga Alliance certification.

We'll cover anatomy, the yoga sutras, mantras/chanting, meditation & more.

At the conclusion, you'll be a confident, competent teacher...in the process of learning to teach, you'll learn about yourself.

If you are interested in teaching yoga, or simply want to learn more about yoga, take this opportunity to do something wonderful for yourself.


Please check for details regarding dates & cost or email: heather@sanctuarypoweryoga.com

Kids Yoga with Jennifer
$13 drop-in ($7 for 2nd child)


Yoga helps improve physical, mental, and emotional health.
Yoga offers a non-competitive way for kids to get exercise.
Yoga also helps develop focus and concentration.
And finally: Kids are stressed too!
By offering yoga to children, we are providing them with tools they can use for the rest of their lives.
When I teach a kids' yoga class, I like to incorporate many of the same concepts as an adult class, but modified to be age-appropriate.
All kids yoga classes end with relaxation and I like to offer kids ways to help themselves relax not only in yoga class but in their daily lives.